Today's blog post has been —ahem —"ghost" —written by one Walter Perry Johnson. Don't mind him. He's been dead for over 60 years and has only the vaguest ideas of what's going on in the world.
Mr. Nelson has been kind enough to wake me from my eternal slumber to weigh in on a subject of obviously eternal importance: The major league debut of one Stephen Strasburg.
As it happens, I could hardly acquire a wink of sleep anyway, rolling in my grave as I listened to all this hype comparing him to me. Applesauce! Do you know what the Washington Post said about me before I first set foot on a major league hill?
"No youngster that has broken into fast company in recent years is attracting as much attention as…"
…well, Yours Truly. That's who.
And with good reason: I had spent the previous six weeks racking up goose eggs on minor league scoreboards around the country. I hadn't allowed a run in 75 consecutive innings, finishing most of the games I started! I had struck out 166 batters in those innings, nearly three quarters of all the outs I recorded, and about two out of every three men who stood in against me!
And that was only after I was found by a scout in Idaho, working for the phone company by day and decimating opposing lineups at night. I spent my boyhood working on the family farm in Kansas. Working, not playing ball. Then I worked in the California oil fields when I was just 15 years old, and I was proud to know that my efforts would help keep America hustling and bustling, working and building for centuries! That was work , I tell you, not like kids these days, having everything handed to them.
But what has this Strasburg kid done? Led a coddled life, getting rides in some spruced up jitney to his baseball games against other towns and schools? I had to walk to most of my games, or hitchhike for a passing mule wagon, until I was in a semi-pro league and could afford a jalopy of my own. Took days. That's why we couldn't play every day.
But this Strasburg kid, I hear he even attended college. College! Anyone who tells you that a college campus is a good place to find a baseball player is all wet, I say. Sure, that Matty fellow turned out all right—not as good as me, mind you, but definitely the real McCoy—but the list is short after that.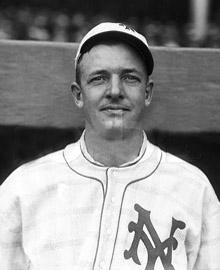 No, if you want a real talent, go and find yourself some hard-boiled reuben on the side of a country road, someone who's worked hard his whole young life and developed the muscles needed to withstand the daily grind of a long life in baseball.
You need someone who's honed his skills against grizzled veterans of sandlots across the great wide expanse of the West, and proven himself against them, not against kids who are barely old enough to wipe their own noses! All the best come from this stock: Cobb, Wagner, Wheat, Alexander, Three-Finger Brown, Ruth, Coveleski. You can take that to the bank!
And another thing: I'm sorry to be the wet blanket here, but from what I've learned, he's hardly pitched! Fifty five innings? In more than two months of "work?" Heck, they've been giving this guy some kind of runaround, else he'd have pitched more. What is he, some prom-trotter who's too busy filling out his dance card to finish his own games?
Those teams he's played on in Syracuse and Harrisburg must not have wanted to win very badly. Perhaps the Tri-State League plays a shorter schedule these days and the pennant was already wrapped up. How else can you explain limiting a kid with so much supposed talent to starting only once every six or seven days? And then yanking him for a reliefer after only five or six innings?
Talent? Phenomenon? Horsefeathers! They've obviously been hiding something, else they'd have let him finish what he started once in a blue moon. Or they'd let him barnstorm the way we did back in those days, racking up almost as many innings in the winter and in between games as we did during the real "season." That's a way to keep yourself in shape, none of this bunk about exercise machines. Just exercise!
Maybe it's that hard overhand delivery of his. That can't possibly be good for the man's limbs, all those elbows and knees flailing about. Reminds me a little of that Feller kid the newspapermen were all getting stuck on just as I went to meet my maker. Whatever happened to him? Probably got hurt and was never heard from again! Why, I'd bet my all Bethlehem Steel stock that guy never made an impact in the majors!
In my day, I threw in a smooth, sidearm motion, keeping the ball behind me til the last moment and whipping it around on the strength of my gut and my gams, not just my arm. That's how I was able to pitch for over 20 years and strike out more batters than anyone ever has or ever will! Over 3,500 of them! Young Stephen has a long way to go before he can eclipse that record!
This kid's an injury waiting to happen, and then what? God help him if he tears his ulnar collateral ligament, something I once heard my old teammate Curly Ogden harping about up here. Can't do a darned thing if that sucker snaps! All that lettuce the Washingtons are supposed to pay him will be lost! He won't get a single Mercury dime! They'll just release him and he'll have to go work in a soap factory. Then he'll see what real work is like!
For now, well, he mostly looks the part. With that on the table, there have been other impressive debuts that would make you think the guy was the dog's bollocks, when he just turned out to be Joe Average. So last night didn't mean much in itself.
I'll give him credit where it's due, since he did strike out 14 batters in the seven innings he did pitch, whereas your humble author fanned only three in his own debut. Still, though, I also pitched eight innings, not seven, and these came against the eventual pennant winning Detroit Tigers, including the Georgia Peach himself, who was so impressed with me he said,
"The first time I faced him, I watched him take that easy windup. And then something went past me that made me flinch. The thing just hissed with danger. We couldn't touch him…"
The soon-to-be American League champions resorted to bunting against me to get on base, which is mostly why I struck out so few that day. Then later Sam Crawford, a two time home run champ, smacked one off me in the eighth. But then I didn't surrender another circuit clout for almost two years ! Let's see if young Stephen can rack up 450 or so innings before someone circles the bases on his credit again!
Strasburg gave up his lone home run, I hear, to someone named Delwyn Young, a lusterless reserve who's got no business hitting a homer of anyone mentioned in the same sentence as The Big Train. What kind of name is "Delwyn" anyway? What a hoot! Next thing you'll be telling me that there are players named Daric, or Denard, or Dustin! Kids these days!
And anyway, these were not exactly the Pirates of my day, with the likes of Pie Traynor, Max Carey, Stuffy McInnis, Kiki Cuyler, Big Poison and Little Poison in the lineup. Milledge? Cedeno? Walker? Jamarillo? There's not a single guy in that Pittsburgh lineup who would have passed muster as a waterboy with those Pirates, much less on the playing field.
In short, while everyone's yammering on about how this kid is the bee's knees and how everything with the Washington Nationals will soon be Jake, remember that my Washingtons had a winning record only six times in my first 17 seasons with them. Remember too that Strasburg will face a lot tougher competition than the ragamuffin Pirates as the season plods on, and that the babe might not be so berries pitching against first division teams.
And finally, remember that injuries happen, and only the Big Cheese up here really knows if and when, and mum's the word from him.
Wait…Washington Nationals ?
Read more MLB news on BleacherReport.com