It's no secret the Miami Marlins were in heavy pursuit of free agent slugger Albert Pujols this past offseason and dangled nearly $200 million for 10 years to get him signed, sealed and delivered to sunny South Beach.
Fast forward to May 15 and the front office should be breathing a sign of relief they missed out on him, but maybe kicking themselves that they didn't deal their own first baseman, Gaby Sanchez, after an All-Star season in 2011.
Here is the tale of the tape on both Sanchez and Pujols this season (via ESPN):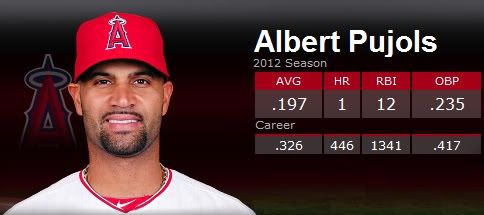 Sanchez, who had a 2.4 WAR (wins above replacement) in 2011, currently has a WAR of -0.8. And while Pujols is getting all the headlines—and with good reason after signing a massive contract with the Angels—Gaby's struggles have gone under the radar.
A deeper look reveals Sanchez's struggles could be tied with an increased tendency to extend the strike zone.
According to Fangraphs, his O-Swing percentage (percentage of pitches a batter swings at outside the strike zone) has increased this season from 31.9 percent to 37.7 percent this season, and that's when you take into consideration the average is 30 percent.
And while Sanchez has made more outside contact than last season (75 percent in 2011 versus 76.7 in 2012), you can tie that to his emergency swings down in the count that usually end up being fly ball or pop outs.
So why the drastic change? Well, pitchers have been able to dominate Sanchez when ahead or even in the count (.181 batting average, 20 strikeouts in 84 plate appearances) as opposed to when Sanchez has gotten ahead in the count (.250 batting average, .400 on-base percentage in 35 plate appearances).
Furthermore, Sanchez has not has much success with off-speed pitches.
According to Fangraphs, where a negative score indicates poor, if any success on a particular pitch, Sanchez has struggled on changeups (-2.20), sinkers (-5.88), and curveballs (-5.05). This has allowed pitchers to blow Sanchez away with their fastball in certain situations (-2.36).
The Marlins will probably ride Sanchez a couple of more weeks before making a somewhat permanent change at the hot corner. At this point, Sanchez has little to no trade value. An injury-riddled team like the Brewers could use him, but he isn't hitting better than what they have in Travis Ishikawa.
Perhaps a Francisco Rodriguez for Sanchez trade might not be far-fetched if Heath Bell continues to struggle (10.03 ERA).
But as it stands, the Marlins face a tough decision with Sanchez as he enters his first year of arbitration. Logan Morrison, whose defense has been iffy at times in the outfield this season, looks certain to make first base his immediate future if the front office declines to offer Sanchez a contract. Morrison came up through the farm system as a first baseman, but Sanchez derailed that possibility.
The Marlins could explore signing a bat in free agency, and it should be interesting since there is somewhat of a deep market for outfielders this offseason.
The front office could choose among the likes of switch-hitting Shane Victorino (32 years old at time of free agency), Melky Cabrera (28 years old), or Nick Swisher (32 years old). The Marlins could also target B.J. Upton (28 years old), or if they want to take a shot at the best free agent on the market, Josh Hamilton (31 years old).
For now, Sanchez has to get better for the Marlins sake and his own. Ever since donning the All-Star jersey, Sanchez is hitting a miserable .216 (74-for-342) and has slugged nine home runs as opposed to the 11 the first half of 2011.
Read more MLB news on BleacherReport.com